Running On: Part II
Run specialty retailers share their stories of survival and ingenuity during the COVID crisis.
Charm City Run
Josh Levinson, owner and founder of the seven-door Maryland-based Charm City Run chain, says he has been amazed by the "support local" efforts in his run communities.
"We go through periods where we sell lots of gift certificates as people are just trying to keep us going," he says. "And then we have customers buying shoes for the whole family. It's been really cool," he says, later adding, that when a threat to local business is evident, people double down.
Levinson is also realistic about the pandemic's overall impact on business. "We're down 80 percent. But that's 10 percent more than where we thought we'd be, [so] there's a little bit of a light there."
Levinson says he's planning for some of the pandemic initiatives to stick around.
"So much of what we've had to do in this weird time is going to carry forward," he says. "I don't see curbside pick-up, home delivery service or our virtual fittings going away. I see us setting up different fitting zones and having greeters at the front door. And we will have a conversation with the customer when he or she walks in to determine their comfort level: Are we taking shoes on and off people, or are we giving them some space?
"There are certain people who are going to be uncomfortable for a while, and we have to respect that," Levinson adds.
Charm City credits a "huge bump" in e-commerce sales to its decision to team with Fitted. The relationship allows the chain to offer every color, every style in the shoes it sells, something it was previously unable to offer customers.
Charm City has received extra dating from vendors, many of whom are staying in regular touch with Levinson and others in the chain.
"But I do worry as the calendar for this [pandemic] extends, everyone starts feeling the pressure — landlords, managers, vendors," Levinson says. "And if at the end of the day, [vendors] start slashing prices, it's going to be hard for us."
"Our economy is fairly resilient. People going out to dinner has been cut back. They can't go to the movies or theater," Levinson points out. "If they are employed and secure in that employment, I don't think they're going to trade down on footwear. The running specialty customer who spent $150 before, I don't think comes back in large numbers and says I only want to spend $100." —Bob McGee

Shu's Idaho Running Company
For Boise, ID-based Shu's Idaho Running, staying flexible and planning ahead are what will get them through the shutdown, according to manager Leone Rusher.
"We've reduced our hours, our staffing and how we get items to the customers: We've been taking orders over the phone, social media messaging, email and texting," she says. Pay-by-phone, curbside pickup and appointment-only try-ons to preserve safe social distancing practices have allowed sales to continue.
But Rusher says the store is keeping a close eye on financials.
"We are really watching what our inventory numbers are and looking at the arrival dates of future product. We don't want to get too much inventory in then have it sit here with no sales or very little right now," she says. "It's a good time to assess numbers and make changes if necessary."
Lessons learned from the shutdown will be key to setting up for the new normal, she says.
"One thing I've learned [is] to always have a reserve of money in the bank, items for giveaways for those customers that buy just to support you during a tough time, and a way to sell items either online through your own website or an online site like locally.com." Oh, and one more thing, she adds: "A positive outlook is always key to make anything work whether you have a plan or not." — Jennifer Ernst Beaudry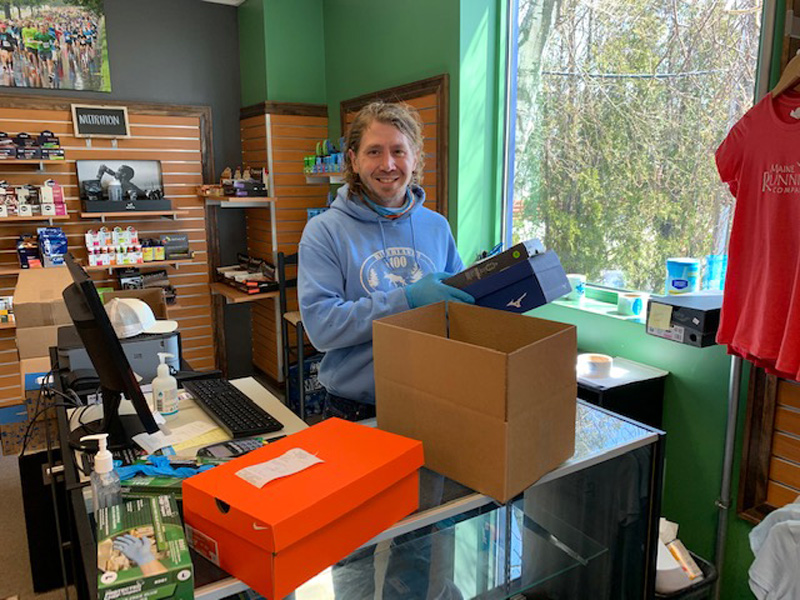 Fleet Feet Maine Running
John Rogers wants to be realistic about what his two Portland, ME-based shops will be facing when the shutdown ends.
"We're really working on our cash flow models on the backside," he says. Despite a supportive local community and more runners and walkers than ever — "the phone has been ringing off the hook" — he says, sales are still down 70 percent with doors shut, and he's projecting business to be 50 percent down for the year.
When doors reopen, he says, he's expecting to see appointment-based shopping, reduced staffing levels, a glut of product in the marketplace, and shaken consumer confidence. "The impacts from this, when we come out of it, are going to last into winter," he says. "You have to redo all your metrics and right-size your business."
To adapt, he says, he's resetting his store to allow social distanced shopping and fitting, reduce his apparel and accessories offering to the essentials, and with gatherings and training groups on the back burner he's considering converting a large space used to host the groups into an annex to help flush through discounted product.
But Rogers says he's not intimidated by the challenges — quite the opposite.
"I'm actually invigorated by the problems," he says. "The solutions we are coming up with are a new way of doing business, and the specialty channel will thrive." — JEB

Runners High 'n Tri
Mark Rouse is taking the shutdown day by day.
Rouse, who owns Runners High 'n Tri in suburban Arlington Heights with his wife Pom, says the pair have been able to keep serving customers, despite not having an e-commerce operation.
"Pom has set up virtual chat and product fittings, and they have a really high success rate: the conversation rate is huge," he says.  The store has also added local delivery and curbside pickup, and that's kept business ticking. Rouse says he hasn't looked at the year-over-year numbers deeply. He jokes, "I'm afraid to," but says that the new methods of selling has let them meet the smaller daily goals they've been setting for shutdown sales.
The reopening period, he says, will bring major questions. Apparel sales — including event t-shirts and other related merchandise — will be impacted, especially if race cancellations continue. (Race day gear, Rouse says, especially for triathlons, is a major driver for the store.)
But virtual events have been a bright spot.
Late in April, the store hosted an interview on Facebook Live with Will Chesney, a former U.S. Navy SEAL and co-author of the book, No Ordinary Dog. While the event didn't sell books the way past in-person events might have, Rouse says that not only did hundreds of people watch the livestream, the post's reach was in the thousands, and sales at the store saw a noticeable spike for two days afterward — sales doubled, in fact. While it wasn't what they had initially planned, "It was a nice way of  a nice way of keeping our name in front of people," Rouse says. — JEB
Runners Roost
Colorado's shelter in place order went into effect on April 1, later than some other states, so Runners Roost owner Sonya Estes says her Lakewood store could see what was coming. But that doesn't mean there's been a roadmap.
The store has been doing contactless curbside pickups, orders via social media and drop-shipping products. Apparel sales have completely dried up, she says, but footwear and nutrition are moving. That being said, she says, sales are down 70 percent.
"Every day is completely different," she says. "I played basketball for a long time, and I feel like right now we're man-to-man, playing scrappy defense to take any sale."
The store is down to 4 core employees, including Estes and her husband — the other 16 were let go with two weeks pay at the end of March, she says — and she's trying to figure out how staffing will look when the doors reopen.
In the interim, the team is doing what they can: deep cleaning, redecorating, reorganizing the backroom and receiving room to make them more efficient, working on invoices and dating, and building the website for reopening.
"Our mindset right now is where we were 17 years ago, just getting everything ready for the grand opening," she says.
She's planning for the virtual fittings and curbside pickups to stick around, as well as the virtual events, which have been a surprise hit.
"For us, some of these virtual runs, the 5Ks and 10Ks, people seem to dig it," says Estes. "They want to be part of something, but they want to do it on their own time."
Those learnings, she says, have been an upside in a challenging situation.
"We knew we needed to do the digital stuff — the online sales, Fitted, Locally — but it was an eye-opener. It's really made me rethink how we do business," she says. "Everything was going just fine, everything was really good. And we thought we needed to get back to the basics, but in reality, we needed to push forward." — JEB

Fleet Feet West Hartford
For Stephany Blozy, owner of Fleet Feet West Hartford in West Hartford, CT, the shutdown has, in some ways, been busier than ever.
"Yesterday I had 26 calls and contactless orders and then 23 web orders," she says. "And it was just me in the store. I did 17,000 steps." Closed since March 18 — even in advance of Connecticut's March 23 stay-at-home order — Blozy says Fleet Feet corporate's commitment to a fast rollout on internet and curbside pickup orders has kept her hustling. That being said, it's no substitute for being open.
"I was just talking to [a fellow store owner], and we were saying, you're working 10 times harder for 10 percent of the revenue," she says.
To keep in contact with her customers during the shutdown, Blozy has opted in to Fleet Feet's "phenomenal" marketing emails, that strike that right balance, she says, between inspirational and product-oriented. She's also leveraging social media to be personable and relevant — making sure shoppers keep the store top-of-mind. Local connections have proven critical: The store spearheaded the creation of a "The Beat Goes On" shirt that shows off — and supports — West Hartford businesses. Blozy says 100 shirts have been sold already, and she's ordered 100 more.
Blozy is using the shutdown to rethink some of the bedrock assumptions she's held about her business, and what her customers are looking for.
The response to curbside pickup and virtual fits, she says, has her thinking. "For a long time, we thought people wanted a lot of service with their shoes. But people also value convenience. And we'll still offer the full fit process, but [maybe] there's another way we can offer faster service with more convenience," she says. "We always talked about a fast track service, and this sets up the technology and program and marketing to do it. That's one thing I've been saying this time is allowing us to do: figure out the future."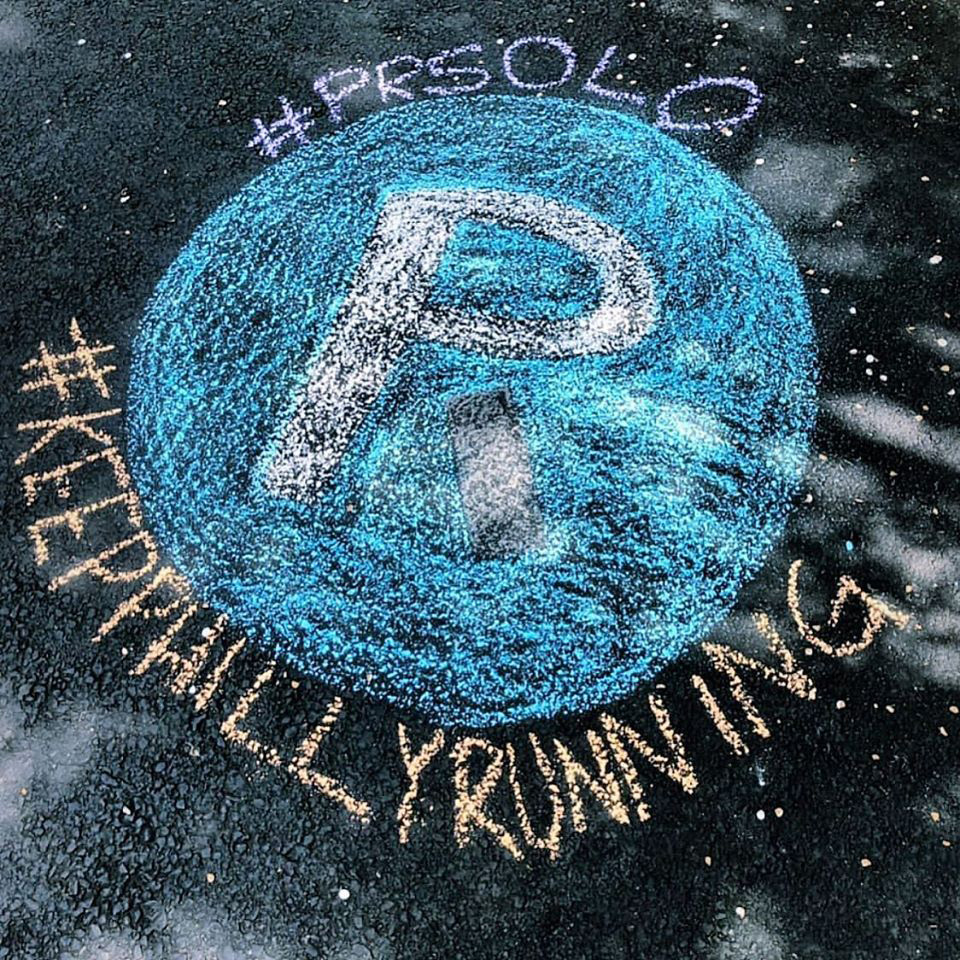 Philadelphia Runner
Planning in a pandemic means being okay with change, according to Ross Martinson, owner of the five Philadelphia Runner locations based in the City of Brotherly Love. "Every week we make plans, and every week we change them," he says.
In the first days of the shutdown, the chain kept staff working and generating ideas — a process Martinson says may be the most lasting of all. "We had them working on blogs and ideas for website and shoe reviews and updating employee manual, and people were excited to get to do that," he says. "And the quality of everything they did was incredible. I've learned that what I thought was a talented staff have talents I didn't know about."  
After the initial period, the store furloughed all but two employees, keeping their 15 full-time employees on benefits. But even that has changed. E-commerce sales through the site's web store — which was only a few weeks old — have been stronger than expected, letting them bring back another person.
"Honestly, it's grown every day since it started, and I can see that as a bright spot going forward," he says. "If we can maintain even a quarter of those sales, it will be a nice business." (That being said, he adds, the total sum of e-comm sales only represent 15 to 20 percent of the normal take. "But it's better than zero.")
Changing rules have made social outreach a moving target, too, he says. To connect with runners during self-isolation and inspire them to keep running, Philadelphia Runner launched a "PR Solo" Facebook Group, which had more than 1,000 members in its first week. The store has also launched a daily, opt-in email with a running quote and a shoe of the day that they'll downshift to weekly when the store reopens (or sooner "if we run out of ideas," he says.)
Although the projected opening date for Philadelphia, like many places, is still TBD — what was once planned for the end of April is now end of May if not later — Martinson is planning for things like virtual fittings, distancing, and canceled races to continue past the summer.
"We can only control what we can control. As an industry, we're lucky — our customer is on the healthier side, and there will be pent-up demand, hopefully, that balances out the people who still don't want to come in stores. I'm really excited to get everybody back on board. And I love seeing so many people out running and walking," he says.
That includes him, he adds.
"I've been running more than I ever have," Martinson says. "I did really forget what a great stress reliever running is." — JEB

Gazelle Sports
Chris Lampen-Crowell, co-owner of Gazelle Sports, says working through the shutdown has meant going virtual in more ways than one.
With all five Western Michigan Gazelle Sports doors shuttered (as well as the organization's New Balance Grand Rapids and Lole Grand Rapids shops) and not able to do curbside service under Michigan's stay-at-home order, the retailer has turned even more to its e-comm site. While sales online don't compare to sales in store (Lampen-Crowell says sales to date in April were 55 percent behind the year-ago period), they've been growing. And while prior to the shutdown orders had come from across the U.S., it's clear that now its local Gazelle fans who are clicking "add to cart."
"The online business has been substantially focused on local buyers, which we love," he says. "People care about us and we're really pleased to see the people here in Michigan just a few miles away placing orders."
But it's more than just sales, he says. When the store made the decision to move one of the retailer's fundraisers, the Gazelle Girl 5K, 10K and Half Marathon event in April, to an online event, they were surprised, but pleased, to see that half the entrants opted to run the event virtually instead of deferring to next year. Even more encouraging: an online virtual expo was a hit.
"It was really good, and we were able to sell merchandise and have people share it with their peers," Lampen-Crowell says. "It was a good opportunity to learn that these events matter to people  — and they're willing to do them virtually."
It points to a roadmap the store will be using when it gets back to business.
"The focus on health is going to be something we utilize and talk about, just that whole movement of healthy at home and running and walking," he says. "People are responding to that, and it's good for our entire industry. And we own that community connectivity and all that that can do." — JEB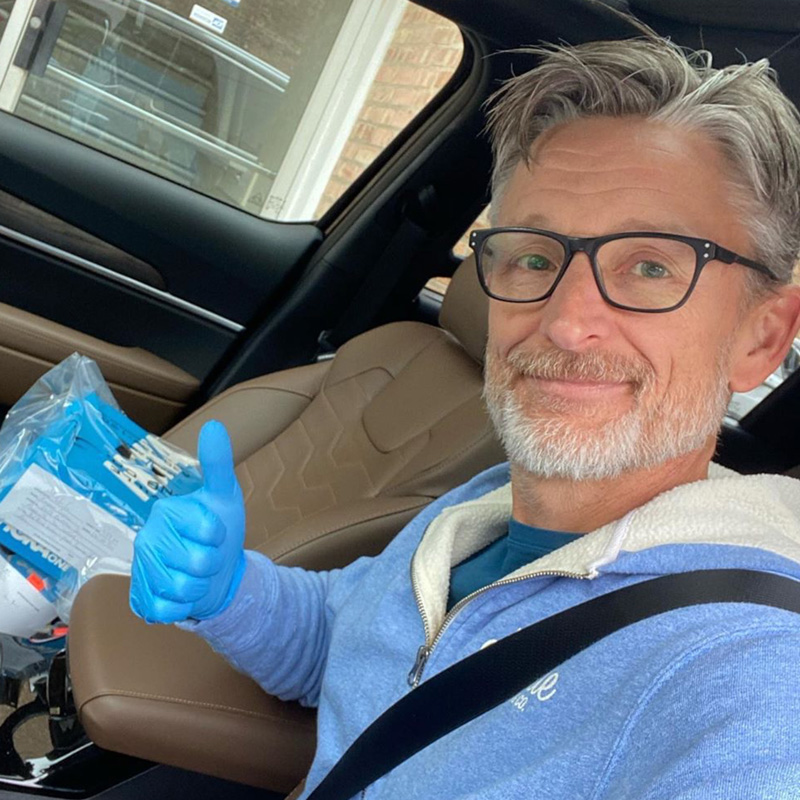 Naperville Running Company
For Kris Hartner, owner of Naperville Running Company, reacting to the COVID-19 pandemic and resulting shutdown has gotten personal.
In the days after the shutdown, Hartner's plan for his three locations in suburban Chicagoland was proactive, launching a new e-commerce site, offering virtual fitting and offering curbside pickup and local delivery within 13.1 miles.
But, Hartner says, conversation after conversation during those early weeks underlined a fundamental disconnect.
"Customers and friends would ask how we're doing, and congratulate us on all the new things, and then ask how business was, and they'd be blown away when I said it was 90 percent down," he says. "There's a perception that you have all these new venues and it's positive, and they just didn't know."
At the end of March, the store sent out a message from Hartner and his wife, Susanna Gotsch. It read, in part, "The most important step we have taken is to assure all of our employees that they will remain employed and fully compensated. They are family and we will continue to do whatever we can to take care of them. However, like many small businesses, we are losing thousands of dollars per day to honor our commitments. We share this information to provide context for the following request: Please consider shopping locally owned businesses whenever you can."
Hartner says the response to the note was "surprisingly positive — beyond what we had expected," and led to a busy few days. "It was the hardest thing I've ever had to do — I decided not to do it at least 20 times," Hartner says. "I didn't need them to feel sorry for me, but I felt like I had to tell them that, hey, if you shop locally owned business, you can help."
The shutdown has birthed a new level of transparency in Hartner's business, he says: At an all-staff meeting, he opened the books, and shared the numbers and the financial outlook. He's also delegated as much as possible to staff — things like the virtual fit process, were developed without him. "I gave literally no input," he says. And those initiatives will stick around when doors open back up — NRC is planning to schedule shopping reservations and triage guests among the stores to make sure social distancing is maintained. "If we can open to some level in June, we'll probably be doing 30 percent of what we were in-store," he says. "If maybe we're at 70 and 80 percent of the business by fall, that would be amazing. But we're not counting on that." He says once business starts growing again, rebuilding that rainy day fund will be a priority — and maybe making it bigger (6 months worth of expenses instead of three?) might make sense. It's that same balancing act, he says. "You want to live rightly within your means, but not by being cheap." — JEB

Lincoln Running Co.
According to Ann Ringlein, manager for Lincon Running Co., the Lincoln, NE shop has had a different experience of the COVID-19 crisis than most shops. Nebraska is one of the few states that didn't impose a statewide shutdown, and Lincoln Running Co. has kept its doors open without interruption — albeit with limitations on the number of customers and with social distancing protocols. In fact, the spring months for the downtown shop have been had strong sales, she says — both in store (at times, she's had to ask people to wait outside to maintain the permitted numbers) and by phone. "We've been swamped with phone orders," she says.
But that's not to say that there haven't been adaptions: the store opens earlier for less crowded buying time, shop employees now hand shoppers the shoes to try on instead of fitting them themselves; the store's races and training groups have been canceled or moved online, and she has her college age staff wiping down all the furniture and fixtures after customer interactions, and the store has added shop by phone, curbside pickup and delivery.
Deliveries, in fact, have become a way to go the (literal) extra mile. Done by bike (generally by Ringlein herself or employee Robb Finegan, both avid bikers, although she adds that customers have even jumped in to volunteer to take orders out themselves to fellow shoppers), they've brought shoes out as far as 30 miles from the downtown, and have started bring pints of cookie dough from neighboring business The Cookie Company with them on select delivery runs.
Ringlein says the store has also seen great response to its team with the Run Solo Project, a virtual race series. Runners pay $50 for the 4-week series of weekly 5Ks, $20 of which is given directly to the store they elect. Ringlein says Lincoln Running Co.'s team has 150 members, and between the fees (which, since the store has remained open, she intends to donate) and a matching gift, she expects to be able to give $5,000 to the city's community foundation for COVID-19 relief efforts.
But while there's a lot to celebrate, Ringlein says she's not assuming things will stay pat.
While the area has been largely insulated from the spread of the coronavirus, an outbreak at a meat processing plant 30 miles from the town had only just been discovered at press time. And Ringlein says she fully expects a quarantine to be imposed as cases rise.
"I'm more worried about when this is done, with the industry having all those shoes out there and stores closing," she says. "The trickle-down effect is huge."
To prepare, she says, she's watching her buying — helped, she adds, by "amazing" vendors. "We're just being tight and careful with inventory," she says.
And, she adds, she making sure she and her staff are taking care. "I just tell them, we need to be very, very kind to everybody who comes in," she says. "We need to be super kind and understanding and patient. Everybody's stressed, and they need to know, 'We'll take care of you.' Everybody needs that in their life." — JEB
See Part I and the Rest of the MAy 2020 Issue
Running On: Part I
In these challenging times, it takes grit, ingenuity and a strong community to get through — luckily, run specialty retailers have them all in spades. We talked to 20 shops across the country to share their stories of keeping the faith — and planning for the future — during the COVID crisis. Read Part I.
Taking Action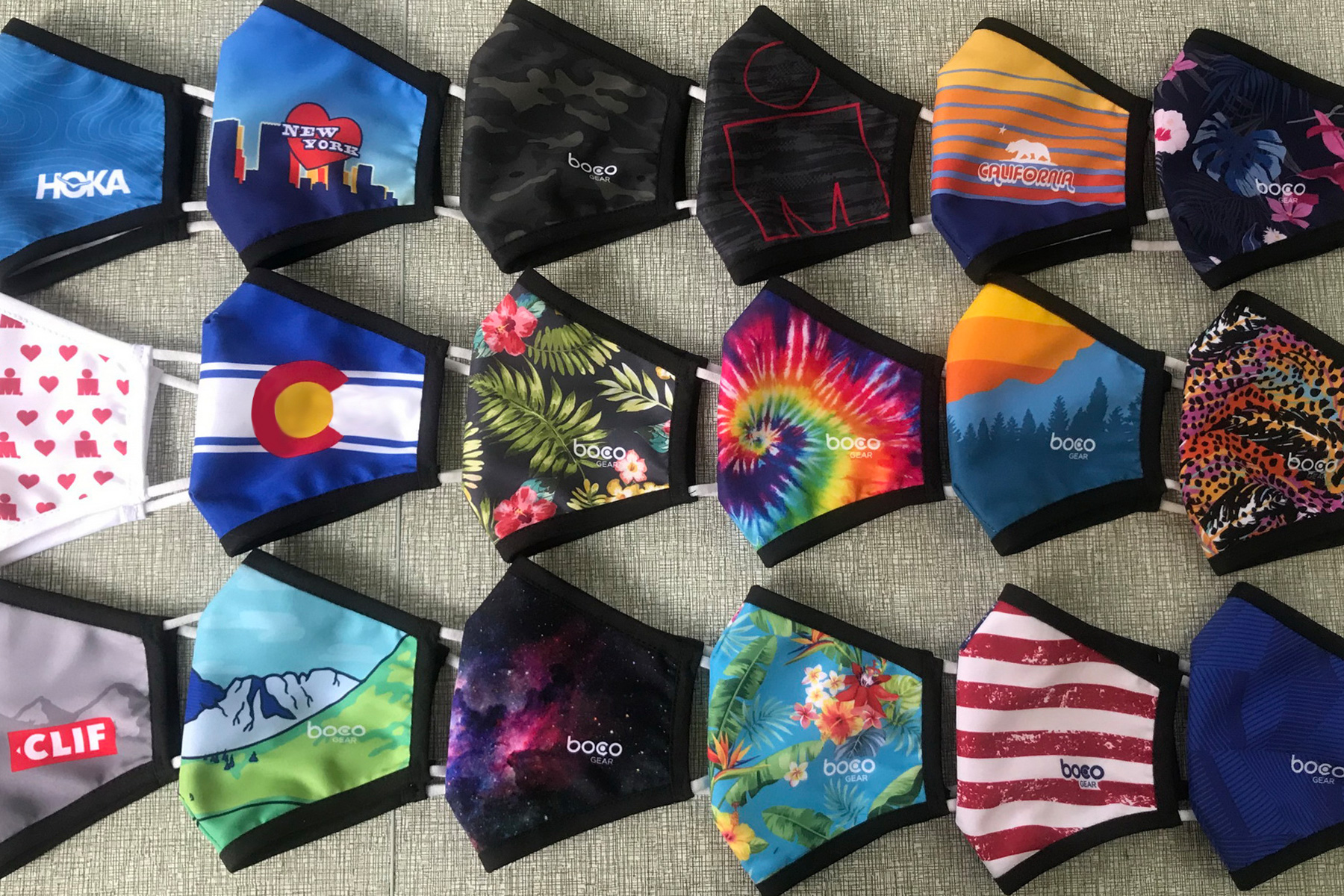 The COVID-19 pandemic and the associated shutdowns have sent a shockwave through the retail world — and the world, period. With no roadmap to follow, run shops across America have been adapting on the fly, trying to keep the lights on and planning for an uncertain future. Read the full story.
The Survey: Consumer Expectations Post-Pandemic
As shops begin to plan for reopening and the new normal, the question remains: What are consumers — shaped by weeks of quarantine and confronting rising unemployment — looking for?  See the full consumer survey.
Supporting Independent Retailers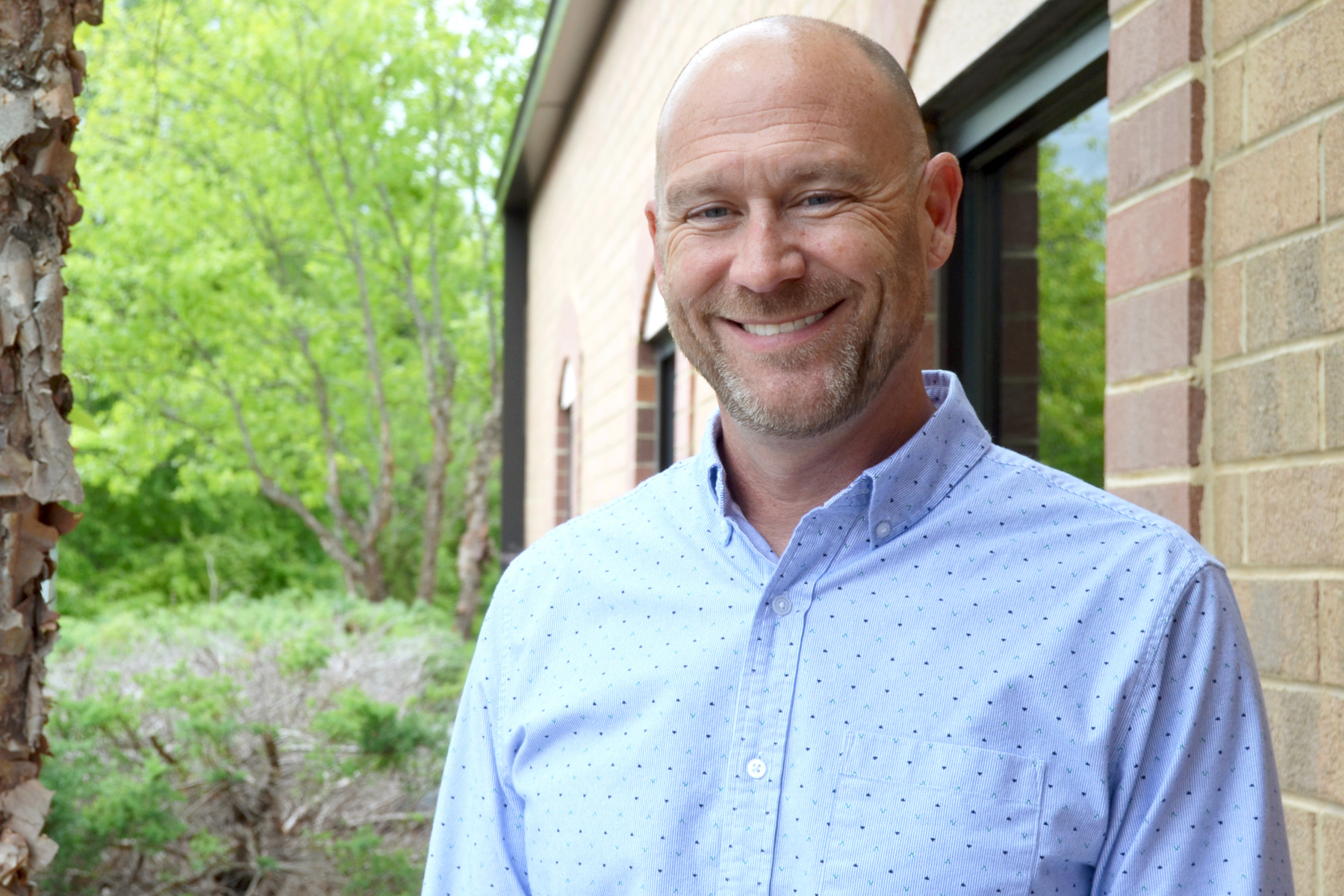 Josh Higgins, president of OS1st, discusses the importance of supporting independent retail and what the future holds.
Read the full story.
8 Questions with RIA's Terry Schalow
As the executive director of the Running Industry Association, Terry Schalow has had a front-row seat to the cascading effects of the near-overnight changes in the industry...  Read the full story.