Taking Action
Snapshots from across the running industry during this time — from product launches to mask making.
PIVOTING TO PPE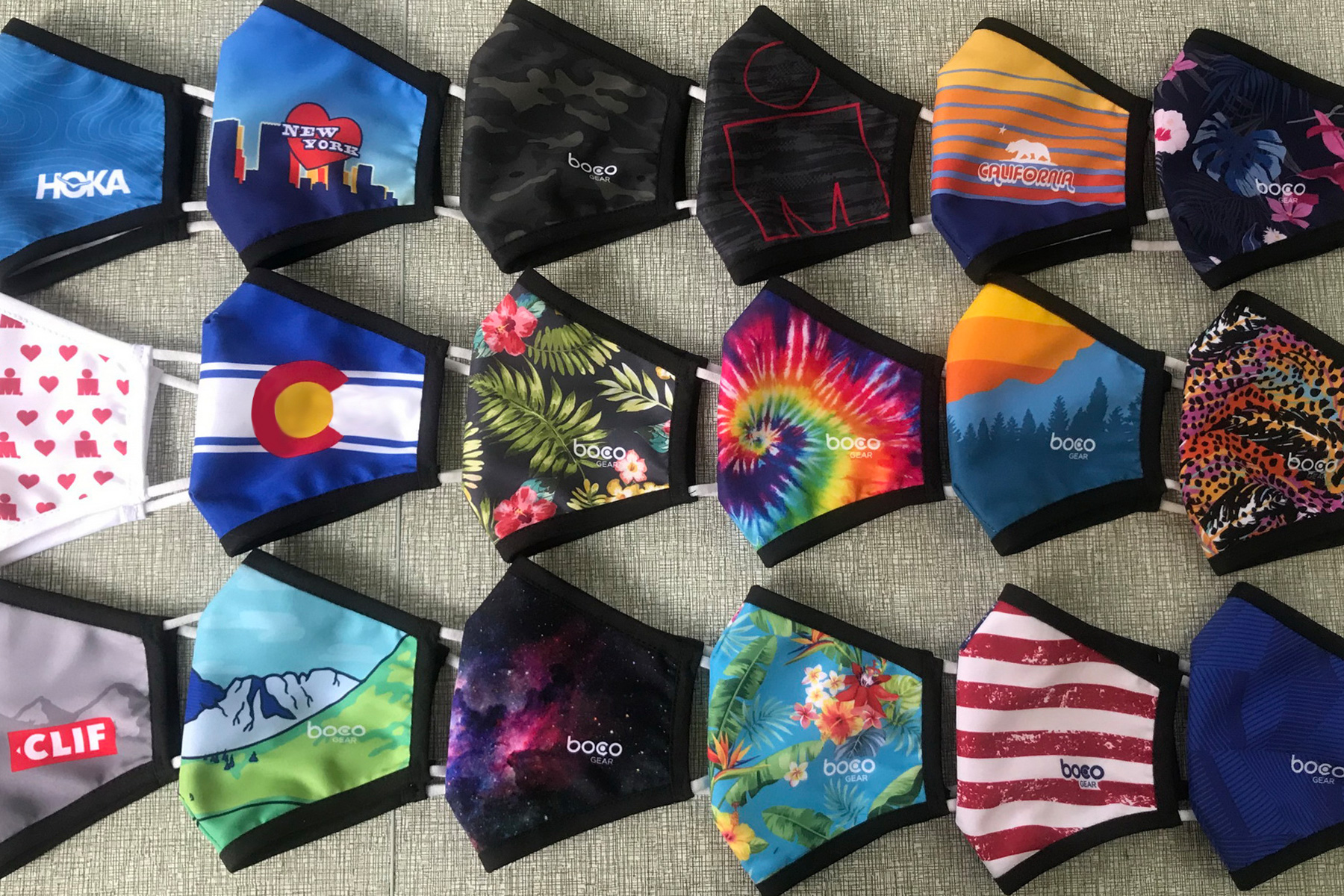 Custom Built
As retailers open back up, masks are going to play a big role — and BOCO Gear is ready.
Known for its endurance gear such as hats and accessories, Boulder, CO-based BOCO Gear began reacting to the COVID-19 epidemic back in January, when the brand started sourcing N95 masks in response to its factory in China's request for masks to protect workers and their families. Now, BOCO has pivoted production to develop custom, sublimated consumer masks for current retail customers and new businesses.
"Our business model has always been offering quality products with low minimums and quick turn times, so the shift for us was fairly easy — it has come down to developing and updating the patterns," says BOCO Gear CEO Kay Martin. "Our masks can be customized for businesses, and there is an option that includes a pocket that will allow for a filter for additional protection. Our ability to customize and turn masks quickly will help businesses make customers feel more comfortable, particularly as states open up and employees are asked to come back to work."
Martin notes that the brand's relationship with its factory partner in China has been key. "Our factory's agility and flexibility driving a common goal is a big strength for us," she says. "Our custom masks allow businesses to brand themselves as they look out for their employees and customers."
Getting Flexible
In the face of the COVID-19 pandemic, Ferndale, WA-based Superfeet is working on multiple fronts to protect the community locally — and the retail community at large. In March, the insole manufacturer and its sister firm, Flowbuilt Manufacturing, put out a call, asking groups in need of medical equipment to reach out as the companies opened up capability on their HP MultiJet Fusion 3D printers. Rapidly transforming their manufacturing, the company pivoted in a week to creating PPE masks, and partnered with fellow Washington State-based airplane interior manufacturer Pioneer Aerofab, which supplied hoods. In April, Superfeet and Flowbuilt delivered 42,000 PAPR hoods to hospitals in the Pacific Northwest; in May, the firms are opening up an additional 30,000-unit capacity that will let them deliver hoods nationwide. The PAPR hoods are reusable, sanitizable, and compatible with other major PAPR systems, and are being sold at cost to hospitals in need.
Superfeet also worked on the retail front, adding new options to support its run shop and other retail partners shut under stay-at-home orders. The firm says it is offering drop-ship capabilities free of charge for stores who don't want or are unable to ship inventory from their stores. In addition, for shops that don't sell online or want to add more options, the firm has developed an affiliate program to share revenue from Superfeet.com sales, and shared content for social channels that retail partners can use to encourage consumers to shop local.
"Our retail customers have been super-appreciative of the relief program," Mike Houser, VP of US Sales at Superfeet, said. "There definitely is a 'we're all in this together' mentality out there, and every little thing brands like ours can do to support and supplement their efforts is appreciated."
Making What's Needed
Pivoting its domestic manufacturing from shoes to PPE, Boston-based New Balance is helping fill the need for protective masks at U.S. healthcare facilities. The firm is producing an estimated 100,000 face masks weekly at its Lawrence, MA, and Norridgewock, ME factories. And in response to requests, NB has started investigating the possibility of making footwear, gowns and other PPE using its 3D printing capabilities. The athletic brand said it was pursuing break-even pricing or donations to get the masks to hospitals in need. In addition, the New Balance Foundation has committed $2 million in grants to local and global nonprofits that support communities affected by the coronavirus.
Community Made
Over the past several weeks, performance sock brand Balega has shifted manufacturing in its South Africa factory from making socks to producing face masks, with an aim of manufacturing and supplying the local communities in South Africa with approximately 250,000 masks. (A hold on exports of all "essential" products and medicines out of the country means that Balega was not able to ship them to the U.S. for the time being.)
"One of Balega's founding principles has always been about caring for the community. With the lockdown, our production has been temporarily interrupted, so we came up with a plan to try to help," said Tanya Pictor, VP of Balega Marketing. "Progress on this project has been amazing and our first production is already shipping out."
In the U.S., Balega is encouraging donations to the World Health Organization and the Solidarity Response Fund on its website and is giving customers a "Buy 3, Get 1" coupon code to use as a thank-you gift. To keep consumers moving, the brand's fitness ambassador team has been leading live virtual workouts for the larger Balega online community to help others stay active, motivated and inspired.
GIVING BACK
Recovery Mode
Recovery brand Addaday is going the extra mile to support front line workers and retailers. The Santa Monica, CA-based brand is offering 20 percent discounts on its products for frontline workers, as well as donating more than $20,000+ of product to hospital staff. It's also working with retail partners, including Fleet Feet, to create social media content to keep their customers engaged and drive retail sales through their channels. Some of those extra miles were literal: Over the weekend of April 18, brand founder Vic Yang ran a 100-mile ultra race around his California neighborhood as part of the Aravaipa Strong virtual race to benefit the COVID-19 Solidarity Response Fund.
Aspirational Buys
Performance sock brand Swiftwick has launched a Buy One, Give One initiative to show support to those fighting to keep everyone safe and healthy during the COVID-19 pandemic. For every pair of ASPIRE Twelve compression socks purchased, Swiftwick will donate a pair to medical professionals and support staff. For every $5 donation collected at checkout, they will give another pair.
California Dreaming
Santa Barbara, CA-based running apparel brand Rabbit is looking to lift spirits with both its spring collection and its giveback campaign.
According to co-founder Monica DeVreese, who also owns run shop Santa Barbara Running, Rabbit is donating its best-selling EZ T-shirt to healthcare workers who could use "a little love and a virtual hug" through its "Operation Appreciation: Healthcare Love" campaign. Consumers can nominate their favorite runners in healthcare at the brand's website.
DeVreese said the brand has given a lot of thought to what kind of messaging it puts out during the shutdown, especially as it looks to launch its Cali Vibes collection celebrating its home state. (All of Rabbit's apparel is manufactured in the Golden State.)
"In general, we have focused on creating and sharing the right message during all of this time," says DeVreese. "Sometimes that means being silent, while sometimes that means sharing new products. "But definitely it means at all times being extremely sensitive to the attitudes and atmosphere of our community."
Comfort Calling
Boston-based Oofos has donated more than 3,000 pairs of its closed-cell foam recovery shoes to hospitals around the country, including Memorial Sloan Kettering in New York, Massachusetts General, Sarasota Memorial Hospital in Florida, and Chicago's Swedish Hospital. And to make sure all nurses are covered, the brand is providing discounts through the RealID.me site.
Partnering to Give
Charlotte, NC-based sock brand Feetures has partnered with Fleet Feet to get performance socks to medical workers across the U.S. though a buy one, give one program. Though Fleet Feet's Do the Run Thing charitable arm, customers can purchase Features socks for curbside pickup — and Feetures will donate a pair to local medical workers for each pair purchased. The brand has also donated 6,000 pairs of socks to hospitals in Charlotte and Hickory, NC, the locations of their headquarters and DC. To date, Features has donated more than 24,000 pairs of socks to U.S. healthcare workers.
Family Affair
Diadora president Enrico Moretti Polegato has, along with his father, Mario Moretti Polegato, president of Geox, donated 1 million euros to health care management in Italy's hard-hit Veneto region. According to a company spokesperson, Diadora is also working with accounts on an individual basis to provide needed support.

Worldwide Solidarity
Boston-based Reebok and parent company, Herzogenaurach, Germany-based Adidas, are supporting the World Health Organization's COVID-19 Solidarity Response Fund by making a $2 donation for most purchases made through the Adidas app, and on adidas.com and reebok.com. The donation is on top of the 3 million euro donation the company has already made to the WHO and others.
Shoes for the Front Line
Hoka One One is partnering with retailers to get shoes to workers battling the COVID-19 pandemic through its newly created Front Lines Give Back Program. Hoka will donate 5,000 pairs of shoes to healthcare workers via its retail partners, who will work to identify local organizations in their communities. To launch the initiative, Hoka partnered with JackRabbit, donating more than 400 pairs of shoes to two hospitals in hard-hit New York and New Jersey. As part of its efforts, Hoka parent company Deckers Brands has established the Santa Barbara Better Together Fund in its hometown, and committed $1 million to fighting COVID-19. The first grant through the Fund has been awarded to Women's Economic Ventures, which aims to empower women business owners and is working to provide emergency financial assistance to business leaders.
Community BUILDING
Race for Relief
Last month, Nathan Sports partnered with Merrell and Trail Sisters on a Run Around the World Camaraderie Challenge to help the fitness community stay connected and active during the pandemic, with a goal to get people from around the world to collaborate by collectively running 24,901 miles: the distance around the globe. Participants were able to contribute in any way they chose — running inside, outside, up and down stairs, anywhere — and then upload their walk/run distances to the site. A $5 participation fee (suggested — runners could contribute any amount) was donated to the CDC Foundation's COVID-19 Emergency Relief Fund.
Apart Together
In keeping with the brand's mantra "Sound Mind, Sound Body," ASICS is supporting runners during the shutdown with tools to help keep them healthy. The Irvine, CA-based brand has opened up the full catalog of at-home workouts in its ASICS Studio app free of charge. It's also hosting weekly webinars with Dr. Jordan Metzl: Called "Running Medicine," the seminars focus on healthy running during the pandemic. In addition, the brand is partnering with local retailers to support efforts in their communities, including shoe donations to healthcare workers or screen printing for fundraising efforts. The brand is also increasing its ASICS Medical Professional and First Responders Discount Program to 60 percent (from 40 percent) off full-priced items online.

Run Club
Boston-based Saucony is working on inspiring runners to focused on their physical and mental health. Saucony employees are running virtual 5Ks on Strava (the Saucony Run Club on Strava has 21,558 members), and the brand's athletes and ambassadors are the face of inspirational content on social media.

Pulling Together
With group runs on pause, performance running apparel brand Tracksmith is keeping community connections strong. The Boston-based brand created the Tracksmith Run Club Slack channel for all runners to swap training tips, share safe routes and more. And the brand has enlisted its community manager — a sub-4:00-minute miler and Olympic Trials qualifier — to create coaching plans for members.
RETAIL SUPPORT
#SupportLocal
North Carolina-based Recover Brands, known for its environmentally conscious apparel products, is focusing on supporting small businesses with its #SupportLocal fundraiser in response to COVID-19. The fundraiser, launched in late March, invests $10 from every shirt sold into their small business partner fund. The funds are distributed directly to their small business partners to provide immediate operating capital relief.
"The goal of this fundraiser is to rally our community to support small businesses during these challenging times," said Bill Johnston, founder of Recover. "By purchasing this shirt, you know your money is going directly to small businesses to help keep the lights on."

Affiliate Affiliation
Tifosi Optics is making sure run retailers can generate sales, even when their doors are shut. The Watkinsville, GA-based optical brand created an affiliate program that gives enrolled specialty retailers a larger commission. Through the initiative, affiliated retail partners will receive a 45 percent commission on sales that are referred to Tifosioptics.com. Tifosi is also offering to drop ship to consumers for affiliates as long as the customer is located in the same state as the shop's resale tax certificate. In addition, Tifosi is sharing the wealth in the month of May, and will donate a protective face shield to health care facilities for every pair of sunglasses sold.
Delivering Good
Brooks is helping local run shops get runners what they need by covering the costs for same-day delivery and curbside pickup. Shoppers using the Brooks Dealer Locater on the website will find costs automatically covered; and the brand has given retailers a code to share with consumers shopping directly with their local stores. The brand is paying delivery fees for same-day delivery through Postmates and Deliv, as well as a 3.5 percent charge to cover curbside pickup.
The brand is also extending its outreach to healthcare workers. After a 10,000-pair giveaway on April 2 evaporated in 45 minutes, Brooks is expanding: For every purchase of a pair of select Brooks models, including the Glycerin 18 and Transcend 7, on brooksrunning.com or at participating local retailers between April 27 and May 10, the brand will donate a pair.
Network It
Swiss running firm On is serving its retail partners by creating a digital retail network (RAN — Retail Affiliate Network) that gives shops a unique affiliate link they can share with their consumers. Purchases made through the link credit the retailer with full margain, and the firm has created social media content to help shops get the word out about their unique URLs. According to On, protecting their retailers' relationships with their shoppers is paramount: the program will run behind a firewall, and On won't capture consumer data. On has other initiatives planned, including hosting town hall meetings connecting retailers with each other and with new ideas.
NEW PRODUCTS
On the Launch Radar
New Balance Fuelcell Prism V1
New Balance will debut the newest entry in its Fuelcell franchise, the Fuelcell Prism V1, this spring. A mesh upper and propulsive outsole meet the Boston, MA-based brand's energy returning Fuelcell foam midsole with a co-molded stability post in this lightweight runner. The Prism V1 will deliver June 1 to all distribution channels.
Feetures Elite Decoded 2.0
The Elite Decoded 2.0 is Hickory, NC- based Feetures' update to its Decoded performance collection. The collection includes three heights — no-show tab, quarter, and mini-crew — and two levels of cushioning: Ultra Light, Light and Max Cushion. The men's and women's styles have a seamless toe, a tech mesh pattern for increased breathability and anatomically designed targeted compression, and will be delivering in August.
Saucony Endorphin Pro
Wait no more. After announcing in early April that the Endorphin Pro model would be delayed until July, Waltham, MA-based Saucony announced on May 4 that this hotly anticipated model would be available for preorder at saucony.com on May 5, and at select run specialty shops on May 18. The $200 men's and women's model will begin delivering June 1. "Our initial shipment of the Pro arrived earlier than expected and we're excited to reward our biggest fans with this first-in-line opportunity," said Shawn Hoy, VP of global product at Saucony.
Brooks Hyperion Elite
The update to Brooks' pinnacle marathon race day shoe in its Hyperion franchise carries the carbon fiber plate with its spine construction from the debut model, but marries it with Brooks' new nitrogen-infused DNA Flash midsole compound. The $250 men's and women's models hit retail Sept. 1.
See the Rest of the MAy 2020 Issue